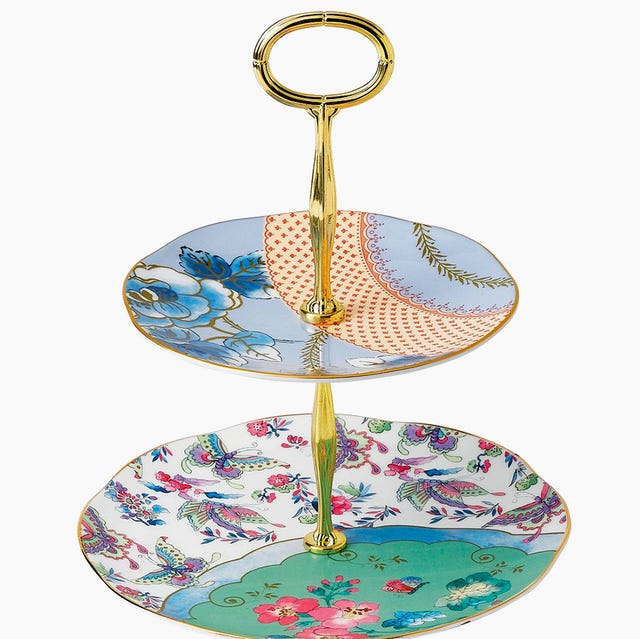 Courtesy
The summer season means your calendar is filling up with parties—that is, parties with proper social distancing, disinfecting, and constant hand sanitizing. Even if the event is outdoors, you won't want to show up empty-handed. Wine is expected. And you've been pretending like you're an orange wine expert for too long already. So instead, bring an unexpected but equally thoughtful gift that goes far beyond the liquor aisle.
We rounded up essential kitchen goods that make party-throwing easier, coffee table books that double as chic decor, and the ultimate every-person gift: really fancy hand soap. Shop our edit of 50 perfect gifts for the hostess with the mostest, now.

1 of 50
Composite Agate Cheese Board
Anthropologie
anthropologie.com
$62.40
Cheese is good. Cheese on a patchwork agate platter is even better. 
2 of 50
For the Golden Girl
Caroline Travel Jewelry Case
Wolf
nordstrom.com
$99.00
She's not like you—she doesn't travel with jewelry stuffed into her ziplock bags.
3 of 50
For the Person Who's Always Finding Themselves
Dream Dust
Moon Juice
net-a-porter.com
$38.00
We all have that one friend who's really into wellness.
4 of 50
For the Italian Food Lover
Spongeware Oil and Vinegar Set
Tory Burch
toryburch.com
$128.00
This set will make their dining table feel like a cozy, Italian trattoria.  
5 of 50
Cameo Scented Candle
Boy Smells
nordstrom.com
$34.00
This smells as good as it looks.  
6 of 50
Vase
MinimumDesign
etsy.com
$17.84
Make sure to fill this vase with their favorite flowers.
7 of 50
Deep Sleep Pillow Spray
This Works
amazon.com
$24.44
Pretty much everyone can use a few extra zzz's.  
8 of 50
Indian-ish
by Priya Krishna
indiebound.org
$23.00
Help friends create modern Indian cuisine—in the hopes that they'll end up feeding you—with this fun book by chef Priya Krishna. 
9 of 50
Denim Dog Overalls
Parisian Pet
macys.com
$34.99
A gift for anyone who refers to their pooch as "my fur baby."
10 of 50
The Moon Jigsaw Puzzle
In or out of quarantine, puzzles are always great.
11 of 50
Soleil Beach Umbrella
Anthropologie
anthropologie.com
$298.00
We promise you that there are beach days ahead.  
12 of 50
We're Not Really Strangers Card Game
werenotreallystrangers.com
$30.00
With questions like "What are you proudest of me for?", this earnest card game will get everyone talking.
13 of 50
Abren Throw
Bolé Road Textiles
boleroadtextiles.com
$195.00
Not everyone loves those fuzzy throw blankets that feel like a stuffed animal. Here's a chic, handwoven alternative. 
14 of 50
The Claire
Dried arrangements make for a longer-lasting gift than the traditional bouquet.
15 of 50
Moroccan Babouches
Sheila Bridges
sheilabridges.com
$140.00
House slippers should be mandated by law.
16 of 50
Cowrie Shell Coasters Set of Four
Global Attic
globalattic.com
$20.00
Protect teak coffee tables from water rings with this chic set of shelll-embellished coasters. 
17 of 50
The Wishing Basket
Expeditions Subsahara
expeditionsubsahara.com
$39.00
Traditionally, wishing baskets are given to someone you love. In turn, they can fill it with little notes that they hope will come true. 
18 of 50
Sandstone Mortar & Pestle
Peace and Riot
peaceandriot.com
$70.00
Pesto tastes better when it's made in a mortar and pestle. 
19 of 50
Bolga Fan
Having a home set of fans for guests to use is wildly impressive.  
20 of 50
Go Ahead in the Rain: Notes to a Tribe Called Quest
Hanif Abdurraqib
bookshop.org
$15.59
This bestseller book is for two types of people: Tribe fans and soon-to-be Tribe fans. 
21 of 50
Peace Vase by Justina Blakeney
Jungalow
jungalow.com
$68.00
You come bringing peace.  
22 of 50
Champagne Set of Six Coupe Glasses
Estelle
estellecoloredglass.com
$195.00
Even tap water tastes fancier in a special coupe glass.  
23 of 50
Lettuce Ware Teapot
Tory Burch
toryburch.com
$248.00
A teapot that comes with a corny opening line:Â "lettuce celebrate." (Warning:Â When said, the host is within their right to turn you away.)
24 of 50
Wellness Journal
AÂ thoughtful journal for keeping track of personal goals. Pencil some quality time with you into its pages before handing it over.
25 of 50
The Moon Deck
This deck of spiritual cards is all about setting intentions and manifesting them in your real world. In other words, it's a two wine bottles in kind of game. 
26 of 50
Hot Stuff Ceramic Mug
She hasn't graduated from drinking wine out of mugs yet. 
27 of 50
Family Fun S'mores Maker
Don't forget to include all the necessary ingredients for your surprise dessert. 
28 of 50
Table Tennis To-Go Set
Franklin Sports
amazon.com
$21.70
Every table is a ping pong table with this. 
29 of 50
Butterfly Bloom 2-Tier Cake Stand
Wedgwood
bloomingdales.com
$76.00
If you're feeling extra festive fill this up with cupcakes. 
30 of 50
Visible Marker Thanks Object
Allan McCollum
moma.org
$36.00
Give a gift that spells it out for you. 
Advertisement – Continue Reading Below
Justine Carreon

Justine Carreon is the market editor at ELLE.com covering fashion, Dutch ovens, and fashion again.
This content is created and maintained by a third party, and imported onto this page to help users provide their email addresses. You may be able to find more information about this and similar content at piano.io
This commenting section is created and maintained by a third party, and imported onto this page. You may be able to find more information on their web site.
---
Advertisement – Continue Reading Below
---
---
---
---
---
---
---